Data is, and always has been your friend and Google Analytics is the daddy of data related to anything web.
Sharing Google Analytics access is something that we do frequently. You'll need to do if you're requesting an audit or getting help with anything website related where you need to know your numbers.  But you need to do it the safe way. If you give someone too much access, you add risk, too little and you\'ll have extra work later on.
It's all about your trust level.
Let me show you how to share access to your Google Analytics in a safe manner.  We\'ll do it step-by-step with lots of illustrations to help you follow along.
First, confirm you are the Owner
This little nugget is super important…. PAY ATTENTION… YOU own your Google Analytics account and data.  No one else, not your agency, not your web developer should own it or be able to kick you off the account. Always remember it's your website, your visitors and your data. No one should limit your access or tell you it's not yours.
If someone has set it up for you, make sure they have given you complete access. You should have the ability to add or remove anyone's access anytime.  Think of it as an all-access VIP backstage pass!
The way Google Analytics is set up, owners have "Manage Users" permission at the account level.
Here's how to make sure that you are the master of your domain 😉 :
Click the little gear icon down in the bottom left corner to enter the Admin section
In the left column (Accounts) click on "Account Access Management"
Click on your user name
Look for the blue box with the checkmark next to "Manage Users"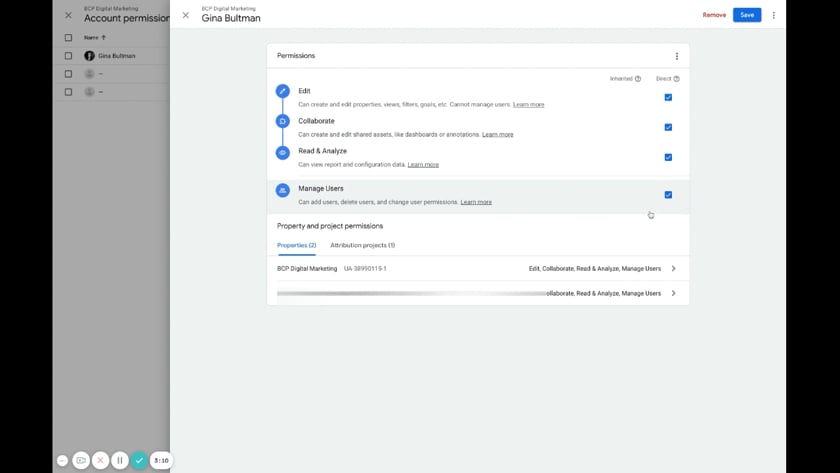 Don't want to read how to do it?  Watch the video instead!
Now onto the step-by-step instructions below...
How to grant a user access to your Google Analytics
If a person has a valid email address registered as a Google Account (no, you do not need to use a Gmail account to access Google Analytics) you can give them access.
Log into your Google Analytics account
Click on the gear icon in the lower left to access the Admin section  

In the first (Account) column, click Account User Management
Click the blue plus button in the top right to add a new user, then click 

Add users

Enter the email address that you want to give Google Analytics permission to.
Check the boxes of the permissions that you want that user to have.
Click the Add button in the top right
That's it. Easy Peasy.
If you left the "notify new users by email" box checked, then they'll get an email letting them know they have access. Next time they log into Google Analytics, they'll be able to see your Google Analytics account in their account list.
If You Have A Growth Mindset,  Let's Talk.
Latest posts by BCP Digital Marketing
(see all)